When I was a younger youngster than I am now and psychics were a regular feature of daytime TV and commercials , I wanted to be a psychic. As a typical millennial, a belief that I could do whatever I put my mind to was fed to me daily at breakfast. So I ate my Froot Loops and put my mind to it. And so would begin my decade long journey towards repeated failure and disillusionment.
I didn't go into this quest blind and dumb. No, friends. I knew I'd have to do more research than watch Sylvia Browne on Montel twice a week. I went to Barnes & Noble and Borders and browsed several books on the topic for several hours each. When one book suggested I try squinting and crossing my eyes until I saw auras forming around other people, I stood right in the middle of Barnes & Noble and did my darnedest to summon some auras. And, honest to G-d, it worked for a couple hours.
This convinced me that I might have the gift after all and would keep me on my wayward path for way too long. Eventually, one of the bookshop employees told me I needed to buy the book or get a library card because I was wearing out the spines and they promise people new books, not lovingly used books. I settled on a deck of tarot cards from Amazon and a library card which explains why America is where it's at today–Borderless and B&N-less (that's buns & nuts).
Anyway, after my aura experience, I was so convinced that I had the gift that I even talked to my PCP about it when he asked me what my goals were in life. I told him about my quest to psychic-dom and the auras I had summoned at B&N and he told me that seeing auras were a symptom of my migraines. My faith was shaken, friends, but not stirred.
So I told my PCP that I read a numerology book that had my moderately unusual name listed in it (what are the odds?) and it said that I was going to grow up to spend all my money on books and wine and that I wouldn't settle in love until I met my soulmate and we were going to be passionate and loyal lovers.
He had nothing to say about this except that it sounded like a good life and he wished me luck but to remember that alcoholism runs in my family so I should take it easy on the wine. Small town PCP's are the best. But I digress.  
When I failed to accurately predict anything in the lives of anyone I knew for the 1000th time, I was forced (via intervention by all my loved ones) to concede that I might not have the gift of foresight. I didn't even have the 50% accuracy rate that would be expected by random chance. But that didn't mean I couldn't look backwards and summon up some dead people. I just had to change course.
So I spent the next several months trying really hard to see dead people. I even went to a metaphysical shop in Old Colorado City and the retail clerk suggested I wasn't seeing them because my 3rd eye was blocked. I didn't even know I had a 3rd eye which explains a lot. Anyway, after she opened it for me (like, bam!) and I told her I still wasn't seeing them, she insinuated that I didn't believe enough. But not to worry, she had a product that could clear away my doubt and transform me into a channel for the spirits. That's when she presented to me a small vile of fairy dust hidden behind the counter that she had somehow come into possession of. She assured me it was by cruelty-free methods. No fairies lost their wings in the making of this dust.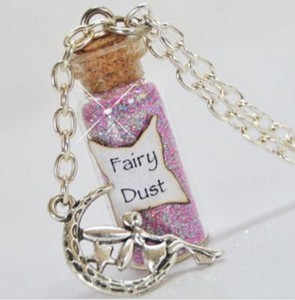 She suggested I let myself be sprinkled in fairy dust to clear out the bad energy my doubt had created around me. 'You don't want to see bad spirits, honey,' she said, 'trust me.' And I did trust her. Even though the fairy dust looked like purple glitter, I didn't outwardly doubt her.
In my defense, let me just say that she was 19 and cool and I was 15-ish and wanted to be cool like her. Peer pressure is real. How do I know this? Because I let her sprinkle me with fairy dust and I walked around with purple glitter on my scalp for 4 days. Absolutely nothing in my life changed but if I were to go back, I'd let her do it again. That's how I know peer pressure is real, unlike psychics or mediums or ghosts which I have yet to find proof of.
The moral of this story is that even though I tried my hardest for an amount of time that can only be categorized as abnormal, I never developed psychic or medium abilities.
That is, until this week.
This week I had a dream that I can only describe as prophetic. So, picture this. I'm in my dream, holding my phone, looking at the weather app and it says that here in Florida it's going to be 113*F on one day and 115*F the next day. Naturally, when I woke up, the first thing I did was open my weather app to see if I was subconsciously replaying weather forecasts I'd previously looked up. But none of the highs even got close.
I have interpreted this to mean that I was dreaming of a future time in which temperatures in Florida will rise so high that they'll reach 113* & 115* respectively in these parts that currently rarely exceed 93*. Given what I know about climate change, I think this is not too far off and I might have finally been visited by the spirits and bequeathed the gift of foresight that I've been asking Santa to grant me for over a decade now.
So, I consulted my deeply skeptical and staunchly logical and ever patient husband who just so happens to be a scientist (opposites attract, go figure) and guess what he said? He said if climate change models are right, this part of Florida is going to be under water in 30 years which means that even if it reaches 113* or 115* by then, no one's going to be reporting about it on a weather app because there's not going to be a city here. Then he told me I should probably stop eating ice cream before bed.
And so the dream dies again and, with it, my spirit animal is crushed.